2023 SESSION 1 PROGRAMS
ONLINE registration will open on Monday May 15th at 10:00AM / L'inscription débutera le lundi 15 mai à 10h00 EN LIGNE
Please note:
► Registration will be done ONLINE ONLY
► Your registration is NOT COMPLETE until payment is received. You must pay your fee to secure your spot. Registrations with unpaid fees may lose their priority if there are people on the wait list. Fee must be paid before taking your first class.
► Each Session consists of 4 weeks of lessons, followed by 1 make-up week.
► The program schedule is subject to change until finalized.
► We encourage you to consult the description of each program on our website under "Learn and Improve --> program descriptions"
► Please note that it is normal to stay at the same lesson level all season, often longer, as your tennis develops at your own pace.
► REFUNDS
TM program fees are NON-REFUNDABLE because a minimum number of registrations are needed to proceed with each session. We engage and schedule our instructors according to registrations. However, in the case of injury that prevents a participant from active play, a partial refund will be considered.

TM will provide a full or partial refund if a registration is cancelled because the schedule changes or if the program is cancelled.

Participants may request to switch courses within a Session, at no additional cost. TM will try to accommodate if space allows

TM will provide a partial refund if the full set of lessons in a Session cannot be delivered.

Refunds are offered as Club Credit, unless otherwise requested, to be applied to any TM purchase.
Thank you for your cooperation and understanding / Merci pour votre coopération et compréhension
---
---
Please note it is normal to stay at the same level all season, often longer, as you and your tennis develop at your own pace.
Red ball age group: 5 - 7 years old


Orange ball age group: 7 - 10 years old


Green ball age group: 10 - 14 years old

JUNIOR DEVELOPMENT TEAMS
Note: For DT levels, instructor approval is required
---
DT1 age group : Strong Green Ball players that are interested in competing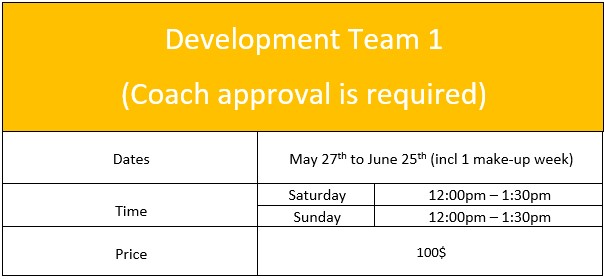 DT2 age group : U12 to U14 competitive players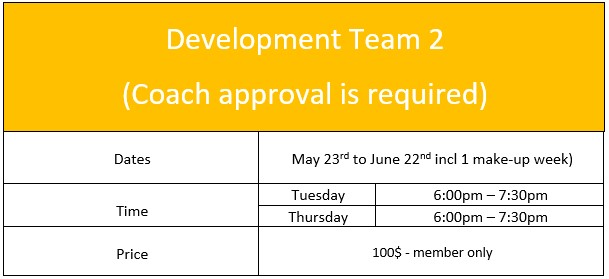 DT3 age group: U14 to U18 competitive players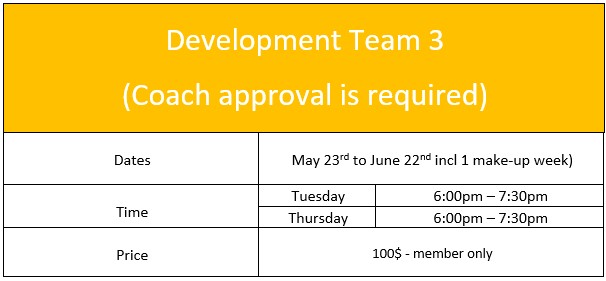 ---
ADULT PROGRAMS
It is normal to stay at the same level all season, often longer, as your tennis develops with training and practice at your own pace.
Although not an ideal tool, Tennis Canada's "Play Tennis" Self-Rating Guide provides a general sense of your skill level. The rating suggestions (from 1 to 5+) are included in the descriptions below to help you select the best course for you. Our instructors and coaches will be happy to guide you.
https://www.tenniscanada.com/wp-content/uploads/2015/12/Self-Rating-Guide-English.pdf
BEGINNER level (Good fit for 1.0 - 2.0 players)

INTERMEDIATE level (Good fit for 2.5 - 3.5 players)

ADVANCED level (Good fit for 4.0 players and up)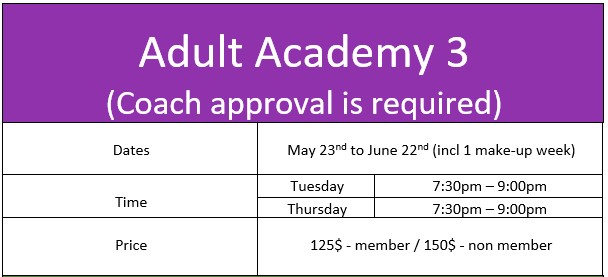 ---